Nepalgunj is an administrative, economic and transport hub of the mid-western region. It lies close to the border of India and adjacent to two national parks: Banke and Bardiya National Park. Not many outsiders realize that it is also a center of diverse food culture from Madhesi, Muslim, Tharu, and Pahadi to influence from North Indian cuisines. The city has one of the largest Muslim communities in Nepal and has amazingly good Muslim foods. Foods are very affordable and street food culture is very vibrant.
I stayed in Nepalgunj for a couple of days after the trek to beautiful Shey Phoksundo lake in Dolpo to explore the foods the city has to offer. The weather was perfect. But don't expect clean and walkable streets— the city has to work a lot on making cities cleaner, greener, walkable and cyclable.
Here are the popular and iconic foods of Nepalgunj you should definitely try while there.
Mutton Biryani at Mubarak Biryani Corner, near M.P. School road
You can't miss the biryani when in Nepalgunj. There are several eateries, mainly around Muslim neighborhoods, where you can find biryani but 'Mubarak Biryani Corner' is the most popular and iconic one in Nepalgunj for mutton biryani. Although not prepared in a typical traditional way, their mutton biryani is very flavorful and aromatic. It is served with simple yogurt, onion, chili, and spices-based raita. It is so popular and packed that the biryani usually gets sold out by early afternoon. So go there well before 1 pm. When I went their second time at around 2 pm, it was already closed. Also try their delicious mutton korma and mutton kebab (made from minced mutton, chickpea daal, and spices).
The restaurant lies in a quite Muslim residential neighborhood. It might be a little tricky to find the way. Go to M.P. School road first and ask locals for the direction (there are also few signage boards of the restaurant). It is located adjacent to the ward-7 office of sub-metropolitan office. (Contact no.: 9804565066)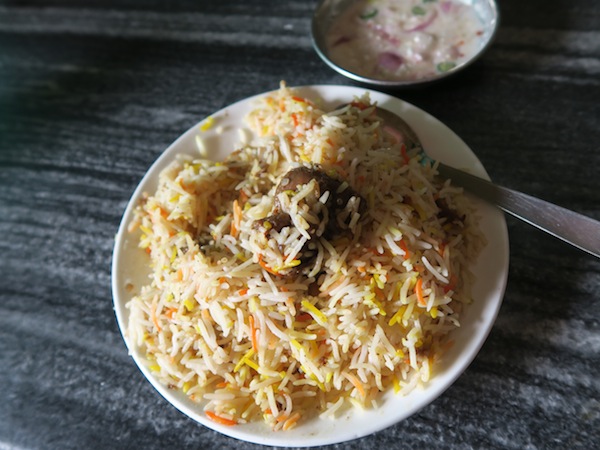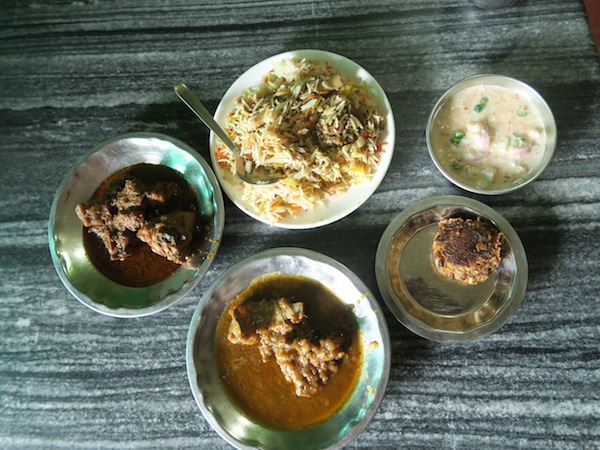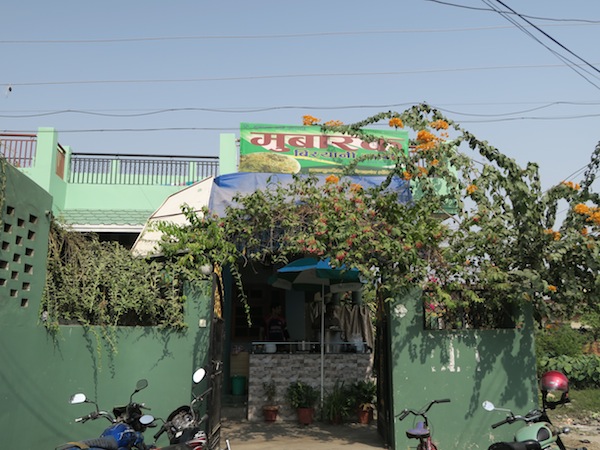 Mutton Sekuwa at Gandaki Bhansa Ghar, B.P. Chowk
When you stroll around Dhambojhi Chowk and B.P. Chowk in the later afternoon or evening, you will be enticed by the smoky aroma of barbecued meat (sekuwa). There are several eateries out there. 'Hamro Momo Center' at Dhambojhi Chowk is the most popular one and pioneer of sekuwa (sadly they employ minors and service aren't that good). 'Gandaki Bhansa Ghar' at B.P. Chowk has more delicious, flavorful and succulent mutton sekuwa. It is marinated with loads of spices but perfectly balanced. The mutton sekuwa is served with puffed rice, tomato achaar, potato achaar, and roasted soybean salad. We also tried the plain mutton sekuwa (without any spice marinating). It was very delicious and served with simple salt and chili achaar. They also serve varieties of mutton dishes including a unique dish made from goat's ears and brain.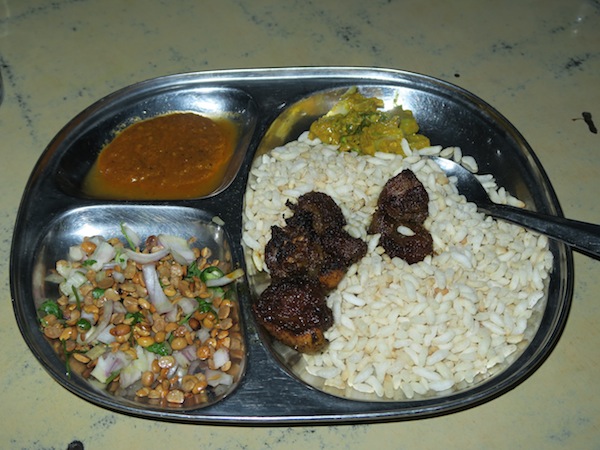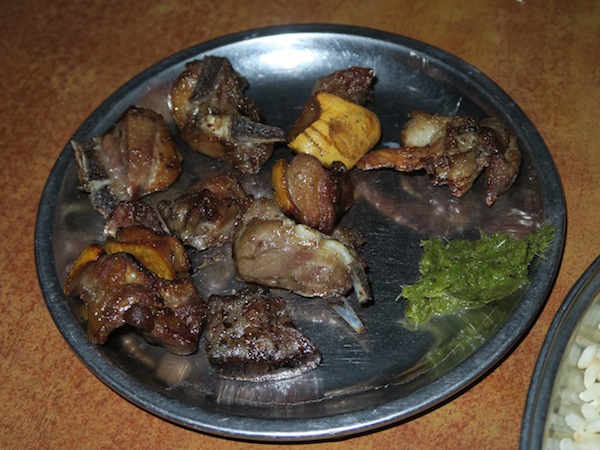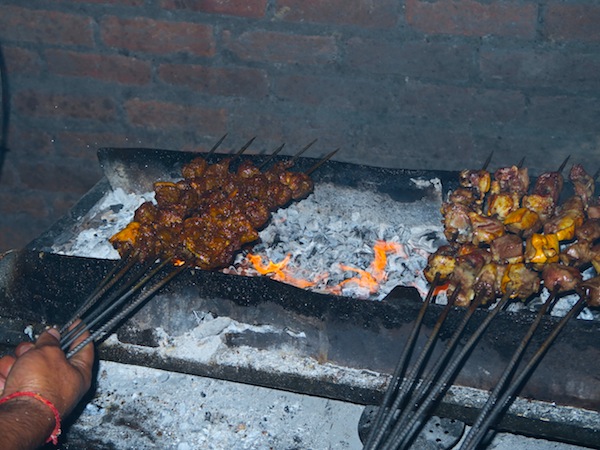 Tharu Food at Gochali Khaja Ghar, Charbahini Road
I was so happy to find the Tharu foods in Nepalgunj during my recent trip. Although the surrounding areas of the city are primarily inhabited by ethnic Tharu community, it is not common to find restaurants serving Tharu foods. My friend took me to this Gochali Khaja Ghar, probably the only Tharu restaurant in the city, located at Charbahini Road. I had the must-have Tharu dish- Ghonghi (mudwater snail curry), and a Tharu set served with dhikri (steamed rice flour dough), bayar chutney (wild berry achaar), sidhara (small dried-fish), jhinge machha (shrimps), Tharu aalu achaar (achaar made a small local variety of potato) and bhatmaas achaar (roasted soybean achaar). Everything was so delicious and was the highlight of my last trip. They also occasionally have other Tharu delicacies such as sutahi (freshwater mussel) and wild boar meat (Ask if there are any other Tharu foods available).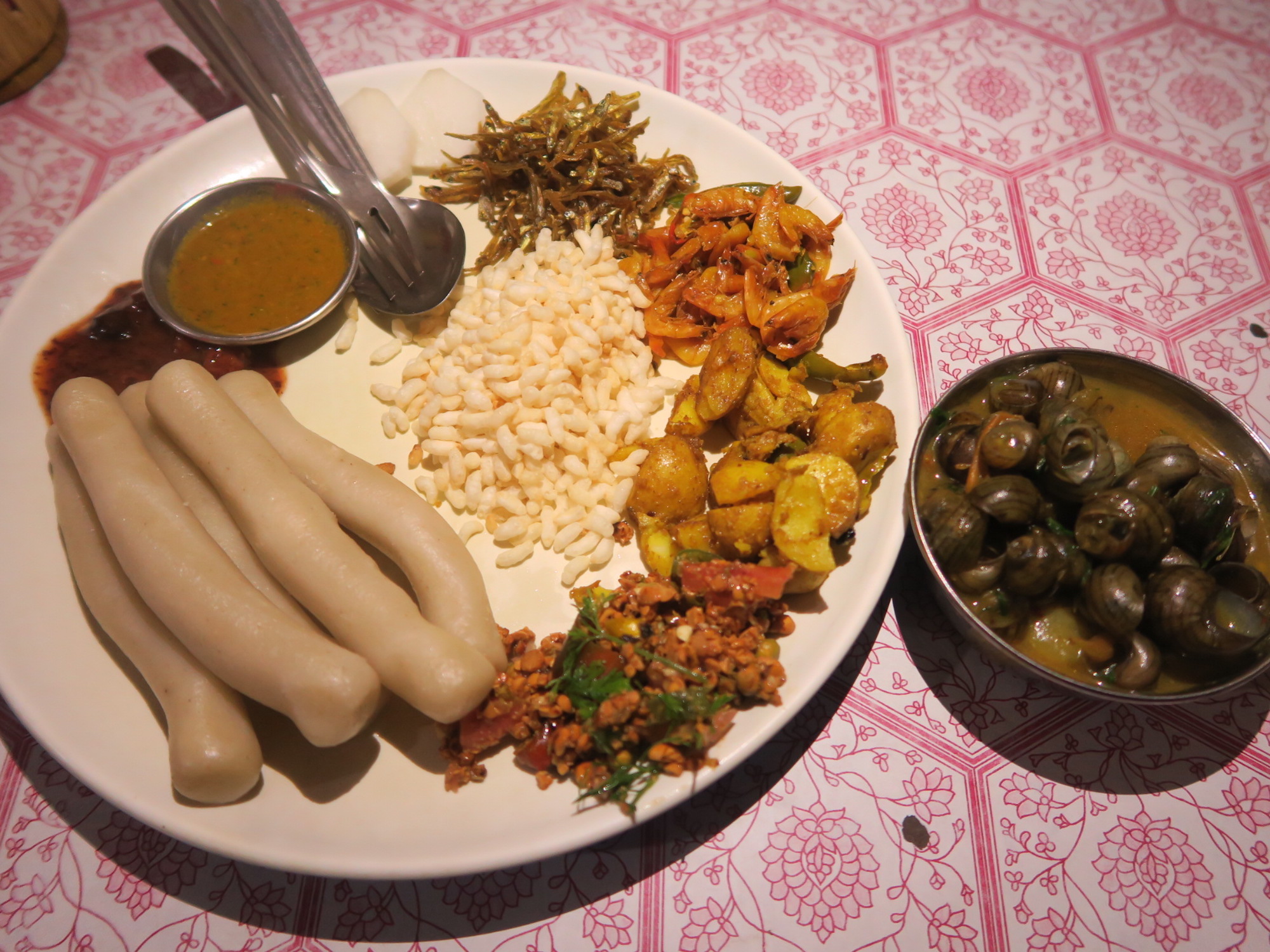 Raabadi at Tribhuwan Chowk
There is no way you can leave Nepalgunj without tasting raabadi– a thick creamy sweet dessert-like prepared by boiling down the milk to semi-solid. Sometimes, it can be found with sugar and saffron. You can find raabadi in many sweets shops and street vendors at Tribhuwan Chowk. Trying getting from the streets, they generally have the freshly made.  Locals will tell you that the taste of raabadi isn't same anymore- they used to have more delicious raabadi in the past.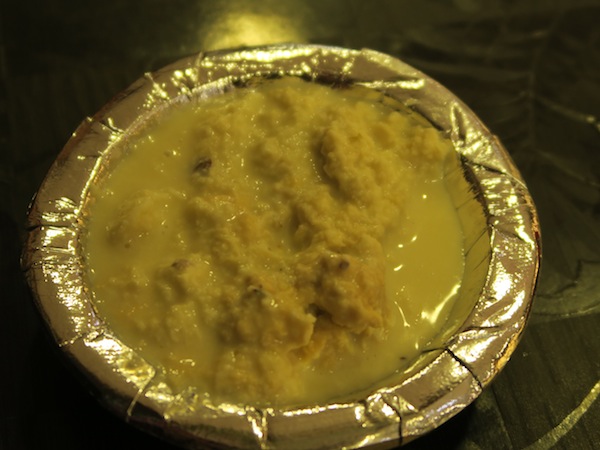 Mittha Paanipuri and Aaalu Tikki Chaat at Surender Chaat Bhandar, Tribhuwan Chowk
'Surender Chaat Bhandar' is probably the oldest eatery in Nepalgunj, which is assumed to be more than 100 years. They serve best paanipuri and aalu tikki chaat in the town. People queue up to get the taste of paanipuri. My friend who is over 30 years old told me he has been coming to the place since childhood, and the classic taste of the paanipuri hasn't changed at all including its location. Mittha (sweet) paanipuri is seriously good and entices all your taste buds. Savory paanipuri is quite different from the usual one you will find it everywhere. It is less acidic, has a kick of fresh green chilies and filled with cooked chickpeas instead of potatoes.
This small shop is located few meters east of Tribhuwan Chowk—ask locals for the location. It will open only after 2-3 pm and until late evening.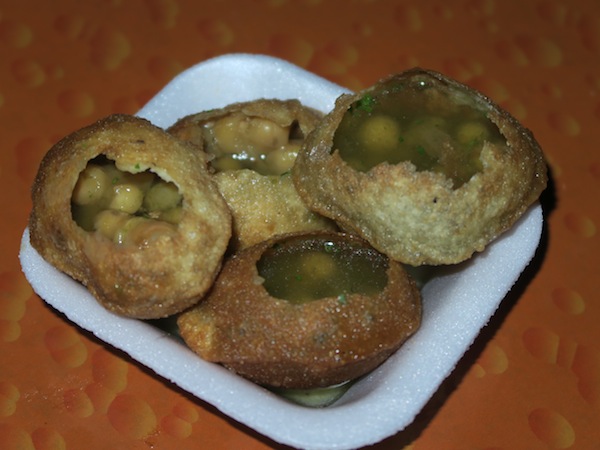 Haluwa Paratha at Chaulika
To be honest, I hadn't expected haluwa paratha to be that good and satisfying. The crispy yet soft paratha goes really with sweet buttery haluwa. Paratha is bread made from wheat flour and haluwa is prepared from semolina, milk, sugar, and ghee. Chaulika, which is near the Indian border and few kilometers south of the city, is popular for this delicacy. The shop, which is over 30 years old, is just a simple rustic open hut located on the side of the main road, and you will be able to see the art of making exceptionally large paratha. It is always packed with locals, especially with the students of nearby college during morning and afternoon. They sell the haluwa paratha by weight, and 100 grams costs you just 25 rupees.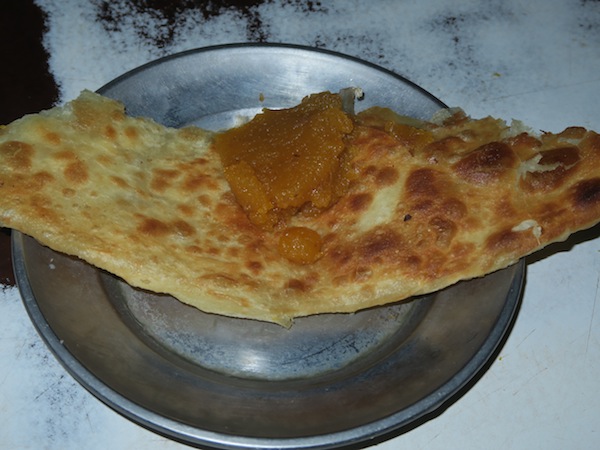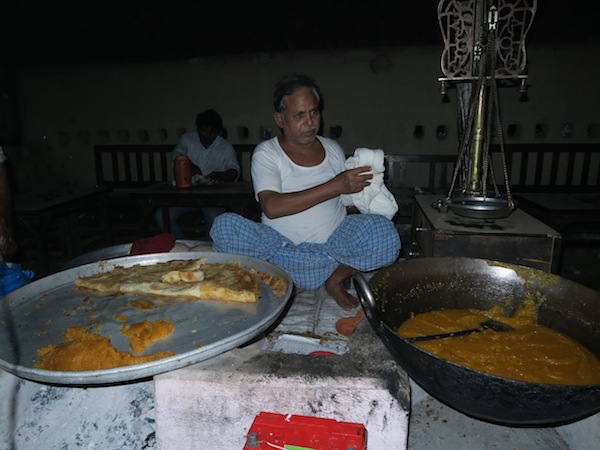 Chana Puri at Tribhuwan Chowk
It's not the usual chana puri you have eaten. It is the other food that has surprised me with its taste and texture. Puri is deep-fried bread, which is in a tiny bite-size piece and very crispy in texture. It goes really with chickpeas and potato curry, topped with tomato achaar. To try this food, go to Tribhuwan Chowk early morning before 8 pm. People eat it for breakfast. I have seen many people packing to take home. It is unimaginably cheap. The portion shown in the picture just cost me 10 rupees, and it was served in newspapers layered with sal tree leaves.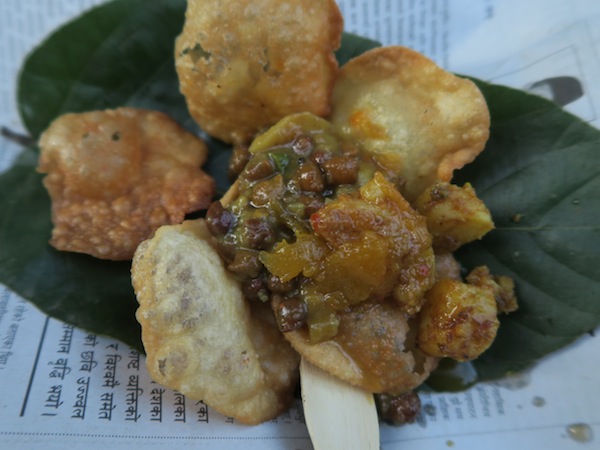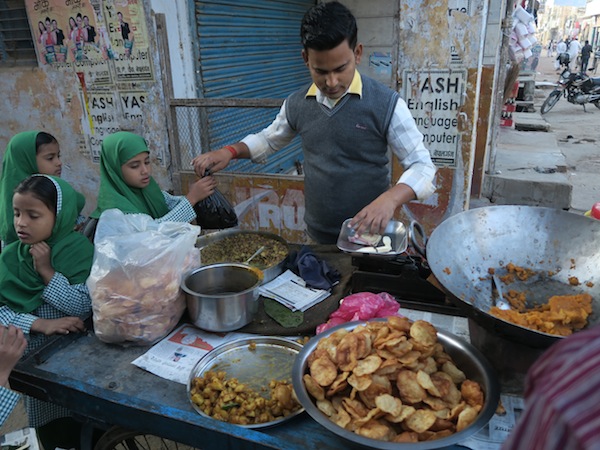 Lassi at Special Baba Lassi and Sweets House, Sadar Line
The special lassi from 'Special Baba Lassi and Sweets House' is topped with raabadi, rose water, nuts and also with lachha (Muslim food- crispy thin strands of wheat flour dough deep-fried in ghee). This sweet yogurt-based drink is more like a dessert than a drink.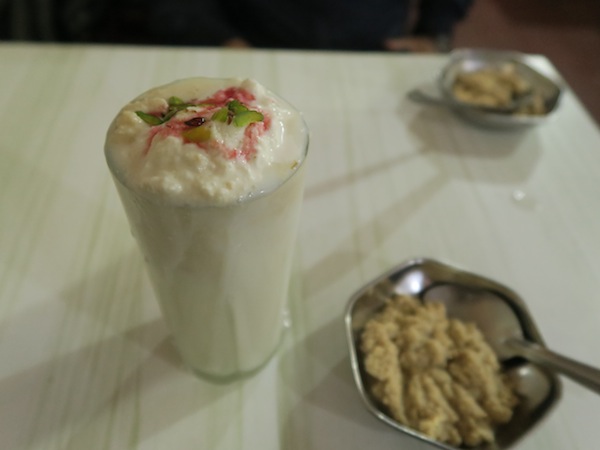 Mittha Paan
When in southern plains, one has to definitely have mittha paan especially when you are stuffed with delicious foods. Paan is an integral part of the Nepalgunj culture. The sweet minty flavor of mittha paan is very addictive and refreshing. Small paan shops are all over the streets of Nepalgunj but this particular one at Eklaine Road is one of the oldest and most popular ones. He has been selling paan for about forty years. Try their special mittha paan with paan leaf very different from regular green paan leaves. While making paan, the owner shared how Nepalgunj has grown from a few lanes of trade market hotspot with wooden houses sitting next to dense forest to a large sprawling metropolitan city.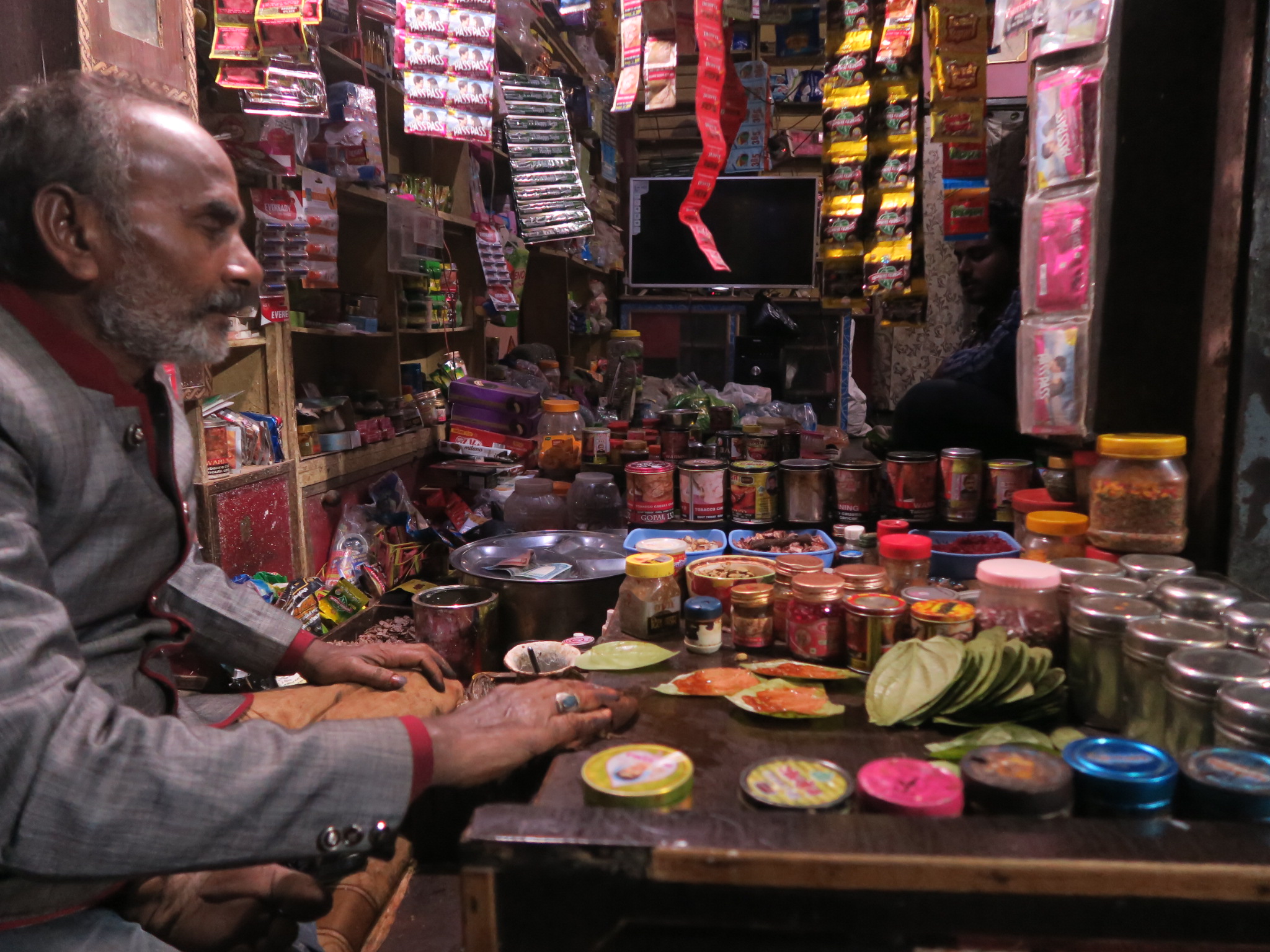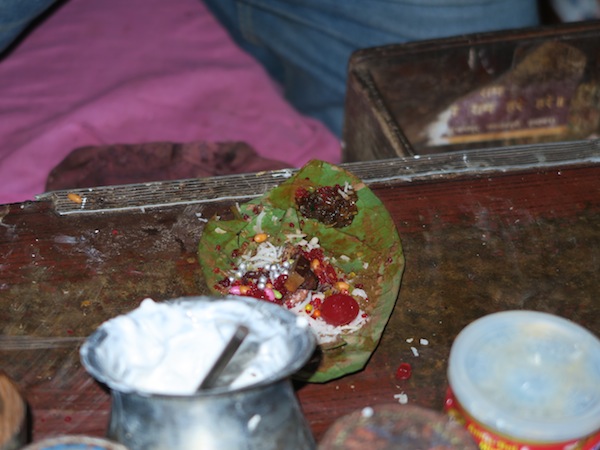 (Thank you, Bikash Chhetri, for taking me to these eateries in Nepalgunj, and to everyone who have recommended these places and foods)
Updated: 06/03/2019