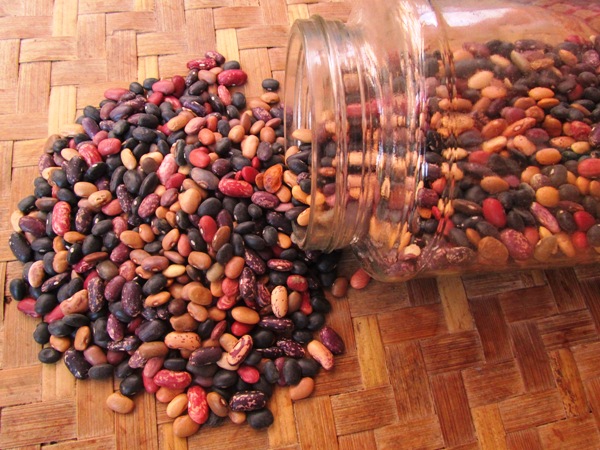 Chirbire Simi (bean) is generally grown in high altitude, and easily grows in less fertile and water scarce land. Chirbire literally means diversity in colors. Contrast to other beans, skin colors of these beans are diverse: black, red, brown, white etc., and are alluring to see. These beans which are full of protein are one of my favorites.
Here is one way you can cook these beans…
Ingredients
1 ½ cups of Chirbire Simi (bean)
4 cloves of Garlic
Ginger
Few Cloves, Cardamom, Cinnamon stick, bay leaves
½ tsp Cumin seed
½ tsp Fenugreek seed
1 medium size Onion
3 plum size Tomatoes
2 tbs Vegetable oil
2 small cubes of Butter
½ tsp Turmeric powder
1 tsp Chilly powder
1 tbs Meat masala or Curry powder
Salt
Method
Soak 1 ½ cups of bean overnight. The beans double in size.
Wash the beans thoroughly with clean water. Put the beans into pressure cooker and add 1 ½ cup of water. Add smashed and finely chopped ginger and garlic, a tsp each. Add few drops of vegetable oil and tbs of salt (or according to you taste). Put the lead on and cook in the medium heat for around 4 whistles (around 15 mins). Turn off the heat and let it cool down.
(Pressure cooker saves your time and energy. In traditional way, you can cook beans in cast iron pot with lead on for around half an hour on firewood stove. Cooking in cast iron pot will give you a distinct earthy flavor to your dish.)
Heat the cooking pan, add two tbs of cooking vegetable oil. Fry some fenugreek and cumin seed. Add 3-4 cloves, cardamom and bay leaves, and a cinnamon stick. Let the oil absorbs their flavor. Add finely chopped onions, garlic and ginger, and add ½ tsp of turmeric powder. Fry the onion until it becomes golden brown.
Add chopped tomatoes, a pinch of salt and cook in low medium heat for around 7-8 minutes with occasional stirring, until moisture from the tomatoes evaporates and oil starts to appear in the surface. Now add a tbs of meat masala or curry powder and a tsp of red chilly powder, and cook it for 30 secs with gentle stir. (If you don't have meat masala or curry powder, you can add some coriander and cumin powder.)
Transfer the whole cooked beans from the pressure cooker to the cooking pan, add some water if needed and simmer it for around 10 mins in low medium heat with lead on. Turn off the heat and add some butter to add flavor. Beans are ready to be served. Garnish with coriander leaves and diced fresh red chilies. You can eat this with a bowl of steam rice or bread/roti.
You can use this recipe for other type of beans such as chick pea, black-eyed pea, red bean etc., however cooking time differs for each type of beans.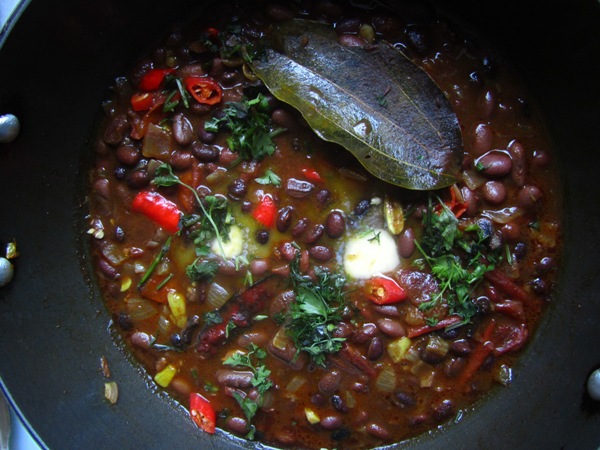 If you would like to buy organic chirbire beans from Jumla and Rasuwa, visit Kheti Bazaar (Dillibazar) or Gaun Ghar Pasal (Maitidevi Chowk) or Saugat Griha (Tripureshwor, near World Trade Centre)