The food culture ofNewar or Newa communities in Kathmandu Valley is probably the richest in Nepal that has been developed for centuries.  Jatraa (festival) and bhoye (feasting) are central to Newari culture.  Newari foods are great and there are plenty of Newari eateries in Kathmandu Valley serving ethnic cuisines. You can also find local drinks Aila (liquor) and Thwon (beer) in those eateries. Patan or Yala, a beautiful historic heritage city on the southern side of Bagmati river, is the heaven for Newari cuisines. Apparently, you can find Newari eateries on every alley or galli of the city of which many of them are largely known to locals only. Here are some of the Newari eateries in Patan, which I personally think serve the best Newari cuisines in the town.
1. Honacha, Krishna Mandir
Honacha, located just behind the Krishna Mandir in Patan Durbar Square, is the oldest and most popular hole-in-the-wall for Newari foods, and is equally loved by both locals and visitors. It has limited Newari food items unlike other Newari eateries and very popular for chhoila (spicy barbecue meat salad), piro aalu (spicy potato curry) and wo (lentil cake commonly known as bara).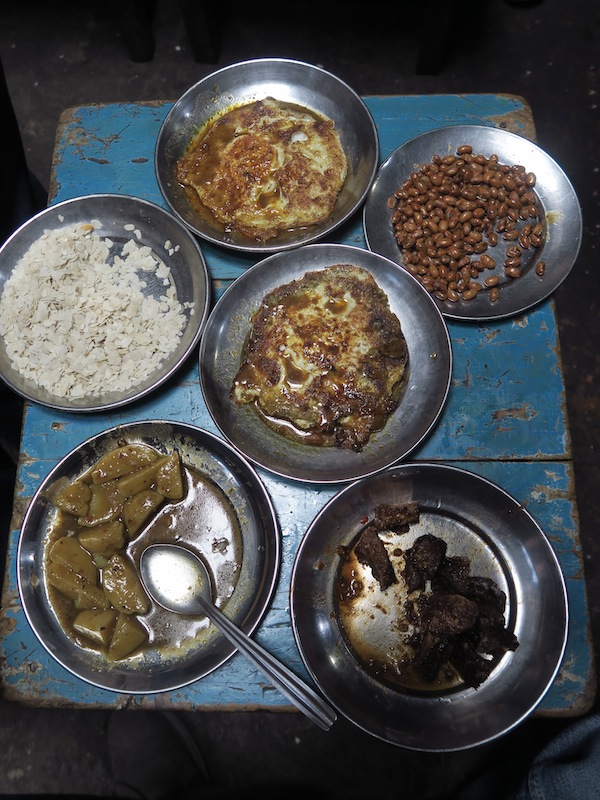 2. Honacha II, Bhimsen Mandir
This Honacha is the other eatery located beside the Bhimsen Mandir just near the Krishna Mandir in Patan Durbar Square. Newari foods they serve are comparable to first Honacha, if not better. They have a cozy space and are usually packed during the weekend. The family members currently operating the restaurant are the 5th-6th generations and has been serving Newari foods continuously.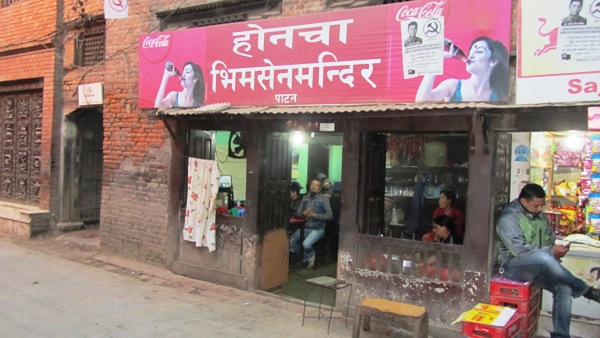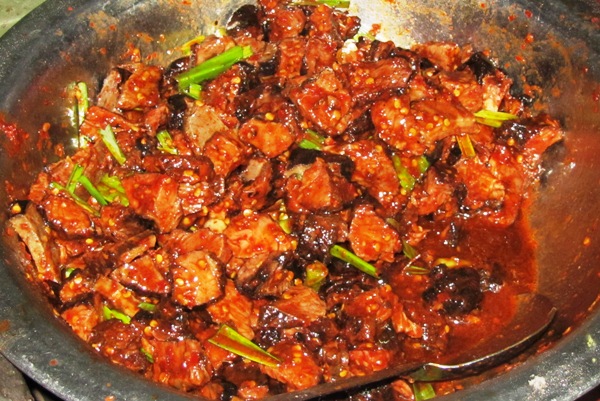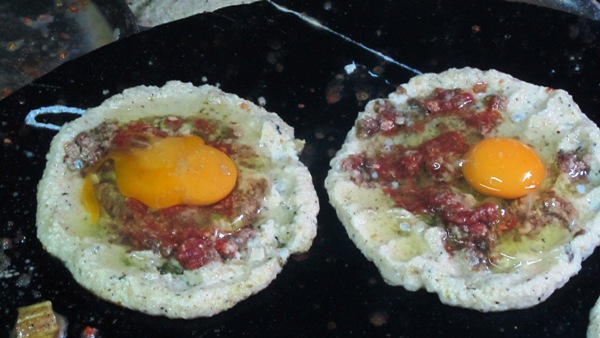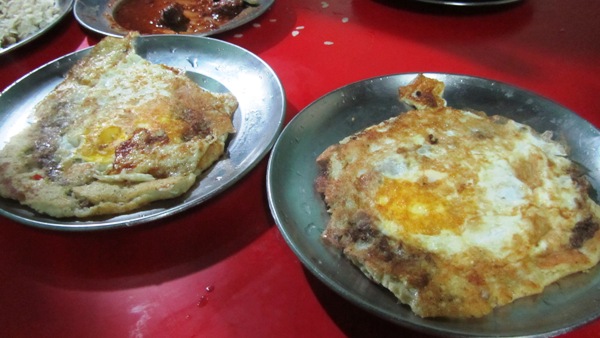 3. Kwaacha, Chyasal
This local eatery, largely known to the regulars and locals only, is few minutes walk to the north from Krishna Mandir in one of the alleys of Chyasal (near Bhelachhen). It is one of the best hidden Newari eateries in the town. It's the first Newari restaurant I have seen serving crabs with Newari taste. During winter, you will also find the rare Newari delicacy takhha (a gelatinous dish prepared from buffalo skin-on meat and cartilage) and sanyakhuna (a spicy takhha with smoke-dried fish). 'Kwaacha' actually is the commonly called name of the owner. It is currently operated by the 5th generation of the family.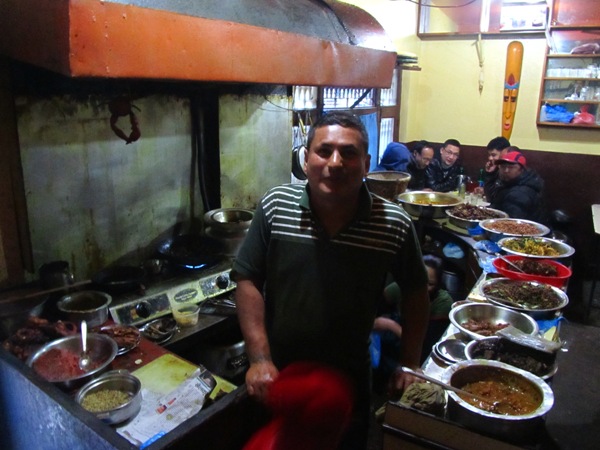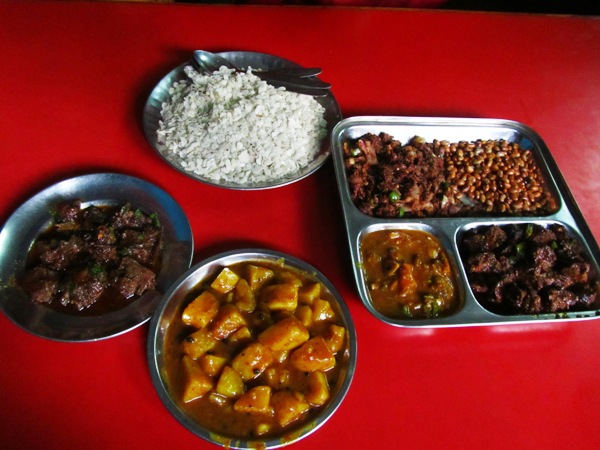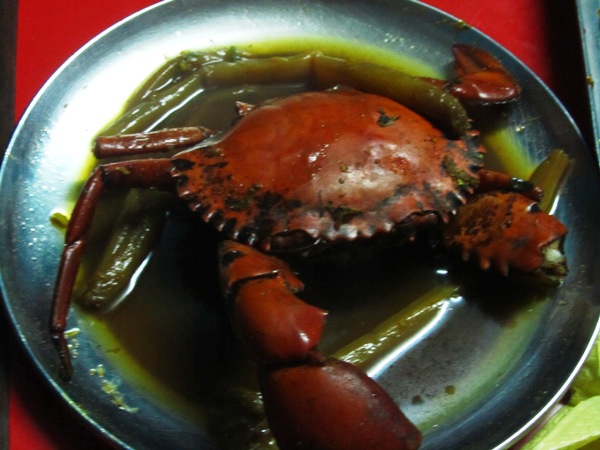 4. Nandini Food Court, Swotha Tole
Nandini Food Court has become one of the favorite places to go for Newari foods- delicious food, varieties, cozy space with nice front public space, and very affordable. It also serves delicacies like swan puka (fried goat's lung filled with rice batter), sapu micha (bone marrow enclosed in leaf trip), and yomari.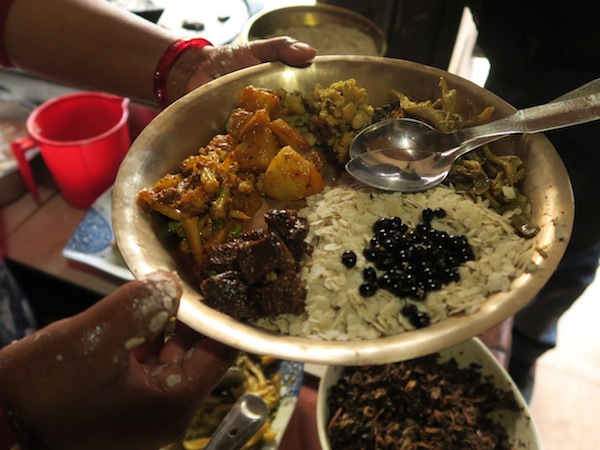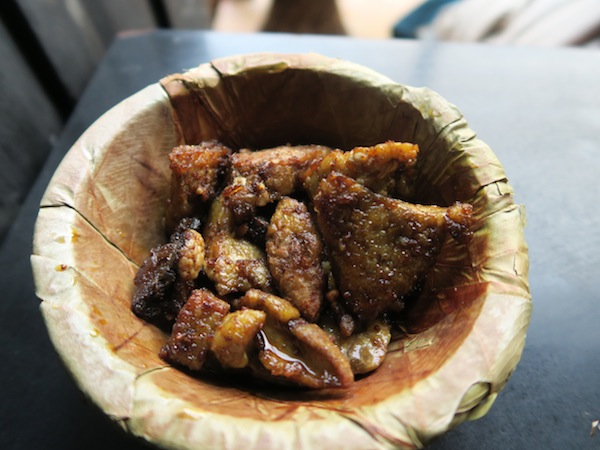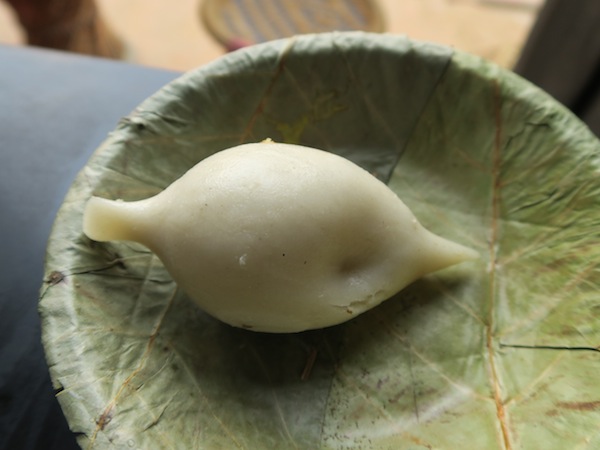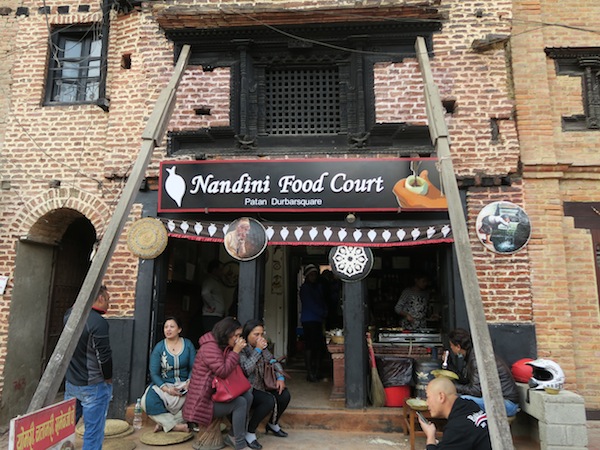 5. Bulal Newari Khaja Ghar, Pinnechhen
The restaurant is a very local Newari eatery largely popular with locals. It serves large varieties of Newari cuisines including the rare delicacies such as jhuku (Newari blood sausage), sapu micha (bone marrow enclosed in leaf trip), nyahpu (boiled brain) hyaun thwon (red rice wine), kar thwon (brown rice wine) etc. Also, I loved their stir-fried minced meat and green beans dish.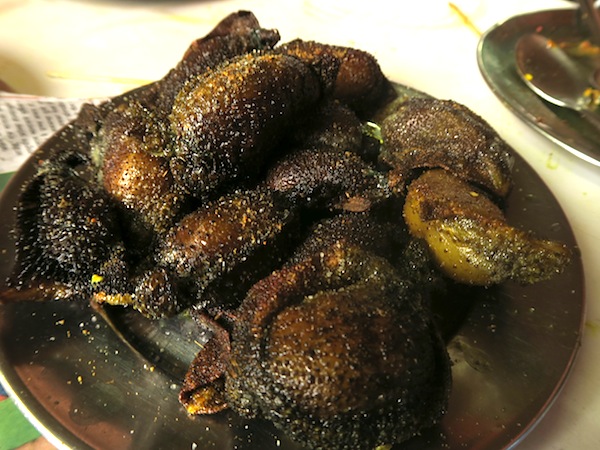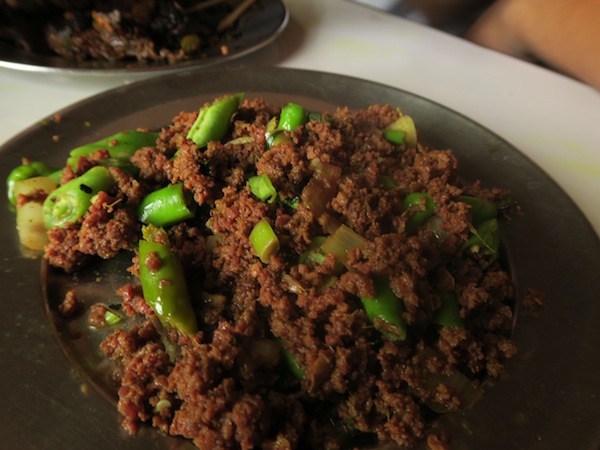 6. Byanjankar Khaja Ghar, Chyasal
Byanjankar, inhabitants of Chyasal area, are the ones cooking for the royal in ancient time- so, it shouldn't be surprising they make seriously good foods. They are also seen as custodians of Newari cuisine and food culture. Apart from the varieties of regular Newari cuisines, they also serve delicious curry of uncastrated goat's meat (boka ko masu).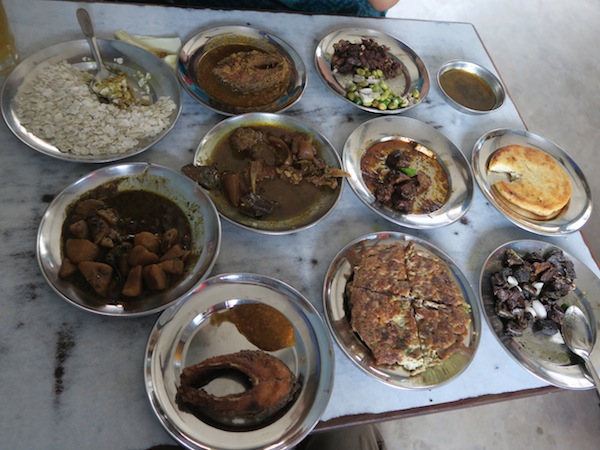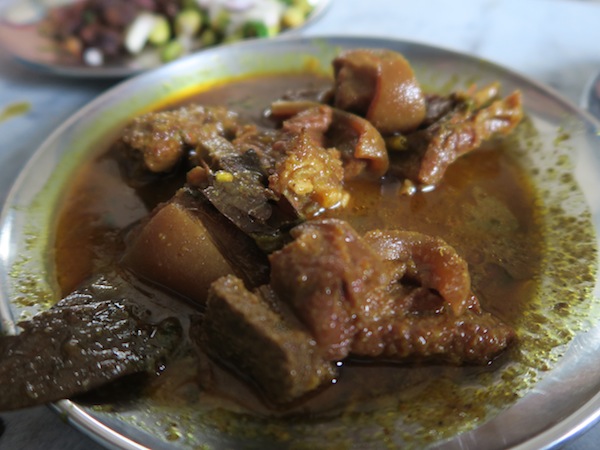 7. The Village Café, Pulchowk
Newari foods so far have been largely served by the small eateries with very local and authentic taste. The Village Cafe is one of the very few restaurants specialized in Newari cuisines with uplifted ambience and service. It is clean, spacious and designed with local cultural touch. It is run by an NGO, SABAH Nepal, for empowering women home-based workers. If you are eating there, you are eating for a cause. It is also the very few restaurants serving yomari (steam rice cake filled with chaku-sesame seed paste). They have the best yomari in the town. However, the taste is designed to make more palatable for a foreign tongue, and the iconic Newari food chhoila isn't good enough.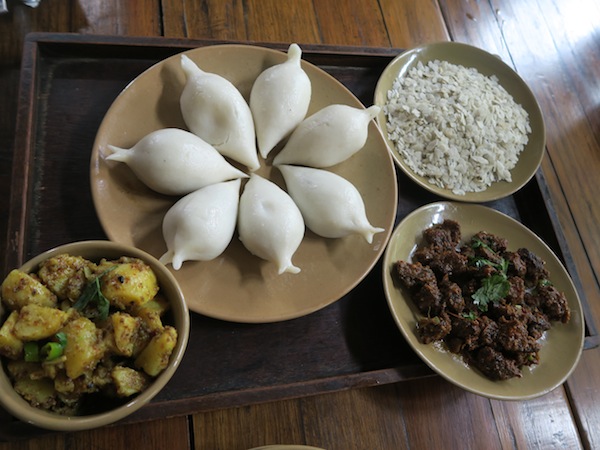 8. Harisiddhi Newa Suhlee, Harisiddhi
This is one of my favorite places to skip hustling-bustling city and enjoy a weekend savoring spicy delicious Newari cuisines. Harisiddhi Newa Suhlee lies in the outskirt of the core city areas in Harisiddhi (Degukhya-9, Jala), around 4 km from Satodobato Chowk. Suhlee is a not so commonly used Newari term for restaurant/eatery. The eatery was opened in 1982 AD and has continuously served Newari cuisines since then. The most popular dish of the eatery is sukuti sandheko (spiced buff dried meat).
A Newari khaja set consists of 13 items and can be served for around 3-4 people- baji (bitten rice), bhatmas sandheko (spiced roasted soybeans salad), badam (peanut), piro aallu (spiced potato), hakku chhoila (spiced smoke-barbecued buff meat), jalaa (made from finely chopped skin), dyakula (cooked buff meat), hansko chhoila (spiced smoke-barbecued duck meat),  sukuti sandheko (spiced dried buff meat), buff chilly, sanya-khuna (gelatinous cold dish made from small dried fish and skin gelatins), kachila (uncooked spiced minced buff meat), and  achaar (pickle).